Is a Home Warranty on a Beaufort Rental Property Worth it?
At Beaufort Rentals, we manage residential and commercial properties in Beaufort, South Carolina. Today, we want to talk a little bit about why we highly discourage home warranties, and why I don't use them for my own rental properties.
Home Warranty Companies Often Lack the Urgency to Fix Problems
Most vendors that home warranty companies choose come from out of town. In some cases, they come from as far away as Jacksonville or Atlanta. Those cities are three to five hours from here. So, we know that these vendors are not visiting the area on a daily basis or a weekly basis. In some cases, it could take up to two weeks for them to show up to a property.
These vendors cannot just go to the local supply store upon arrival to purchase parts and tend to repairs at your property. They must order those parts through the home warranty company first. So, big parts like air conditioning units or hot water heaters could take several weeks to arrive, and then the vendors would have to return to the area to repair them.
On top of that, when they return, vendors must contact the home warranty company for approval before making any repairs. Often, that approval takes several days. If you add it all up, potential issues could be left unaddressed for several weeks. If this is air conditioning in the summer or heat in the winter, your tenant will be left to deal with a major problem.
Not All Vendors Do Good Work
Some of these vendors that are chosen by the home warranty company are also subpar. Most great companies can get work on their own based on their reputation. If they are not so great, they have to cut prices and in some cases, they get hooked up with home warranty companies because they are willing to work at a discount. With that, you can never be sure what you will get or what kind of work quality you will see.
Lack of Attention Can Cause Problems
In our industry, we find that one of the main reasons tenants don't renew their lease is because of maintenance issues. When a tenant does not renew a lease, you are left with a vacant property, which can lead to a major loss of revenue for you. Then, you have to factor in the landscaping cost and the other expenses involved in maintaining the property while it's vacant.
In most cases, the total cost for all of that is more than what you would save had you just done the repairs on your own. When it takes several weeks for an issue to be repaired at a property, the tenant takes notice and may not renew the lease. In that case, it will end up costing you more in the long run.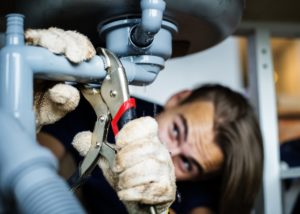 There are so many reasons we strongly discourage the use of home warranty companies. We advise you to do some research on this before deciding to purchase a warranty for your rental property. As always, if you have any questions or concerns, please feel free to contact us at Beaufort Rentals.